You probably know it: you log in to social media and you see that all opinions are thrown on the table about a certain topic. You have no idea what preceded this discussion, but it is talked about so much it must be something big. However, you have to google yourself for what that big news can be. Google has found something in similar situations: context links.
Context on Google News
If you look in Google News, you will see news items in all kinds of blocks. You see the date, the introduction text and the medium. Very handy, but there is something else too. At the bottom of a Google News story, you can see the result in terms of the context of the message. If you click on this, a larger story will open in that topic.
For example, if you search for "stimulus package" in America, you will see an article from Forbes that reads "For context", and then a general article about what the stimulus package entails. Instead of just having the news story saying it's going live today and for an x ​​amount.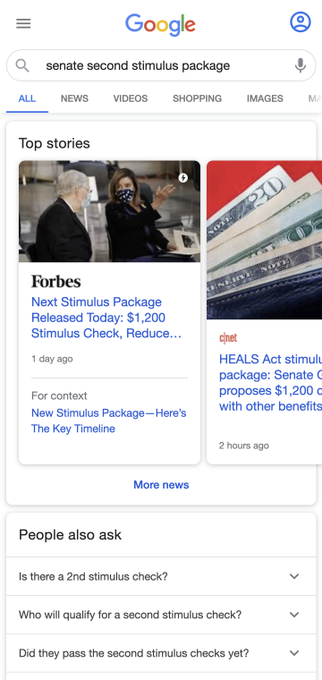 Mobile-only
If you don't see it yet, you are probably trying on a desktop computer. This option is currently live for mobile phones. However, you cannot just search for everything and get that context link. A number of specific topics have been selected for this. That raises questions. Is it really meant to provide more context on a topic, or is it about making certain publishers more eye-catching?
Google is rolling out the new capability right now, so it's not a test. As soon as Google notices that a publisher has some sort of backstory on a news story that is current, it will be added, Google tells TheVerge. It is therefore not so much a way to fight fake news, for example, it is mainly a way to better inform a reader from well-known publishers. The indirect result, therefore, is that people are better informed so that they recognize fake news more quickly.